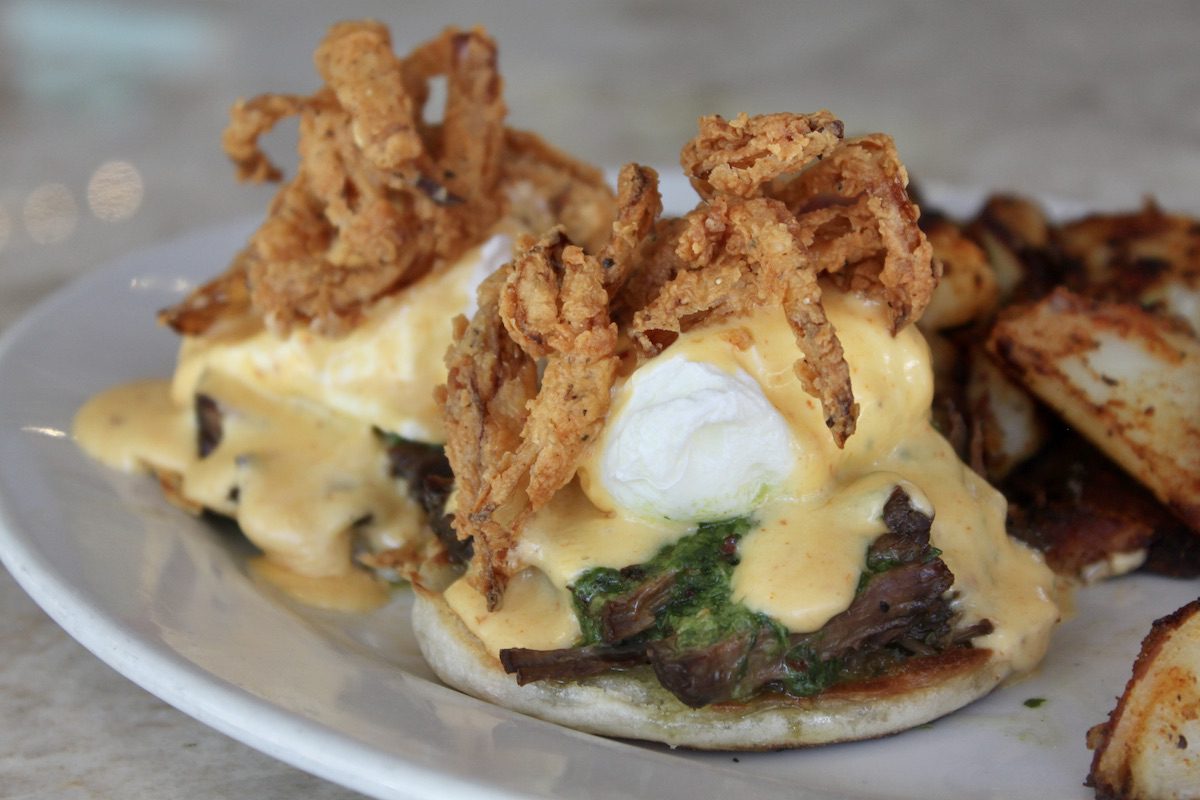 July Specials Are Poppin'
Cue the fireworks. Our food and drink specials for July will have you ooh-ing and ahhh-ing. We're making the long summer days a bit better with some WOW brunch dishes to treat yourself and refreshing cocktails to sip with friends.
Orange Creamsicle Punch
There's nothing more quintessential for summer than the Orange Creamsicle. We tip our hats to whoever put this delicious combination of orange and vanilla ice cream on a stick. And while nothing beats the nostalgic challenge of eating this treat both quickly before it melts and slowly to savor every bite, we think we've got a good solution. Our new Orange Creamsicle Punch blends vanilla vodka, coconut cream and orange juice into a sweet and creamy delight as good as its namesake. Only without a stick – or the mess. Find it at all Squeeze locations this month for $10.
WHO REALLY INVENTED THE CREAMSICLE?
Braised Short Rib Benedict
Our weekend specials are just another reason to wish every day could be a Sunday Funday. This month, our Squeeze kitchen has put a decadent spin on our classic Bennies for our July special. The Braised Short Rib Benedict piles up an English muffin with braised short ribs, chimichurri, a poached egg and chipotle Hollandaise sauce then tops it off with crispy onions. It's as spectacular as it looks. Find it at all locations on Saturdays and Sundays in July for $17.
FIND OUR BREAKFAST SPECIALS NEAR YOU
Strawberry Elderflower Gin & Tonic
Meet the Strawberry Elderflower Gin & Tonic, the latest sweet and refreshing drink in our Gin Membership series. This seasonal sipper adds muddles strawberries and elderflower liqueur to the classic G&T. it's got just the right balance of sweet to go with our brunch favs or to enjoy as part of a relaxing afternoon. Find it on the menu for $9.
Crème Brulee Stuffed French Toast
Who says Crème Brulee is only an evening treat? Our Crème Brulee Stuffed French Toast takes this classic dessert and layers it between two slices of our French toast. We add another brulee on top – so you can give it that classic fork-tap "crack." It's served with a raspberry-blueberry puree, house made berry whipped cream and fresh berries. It's available through July for $16.